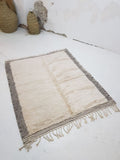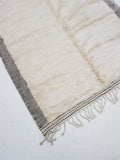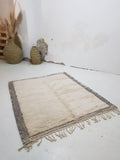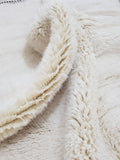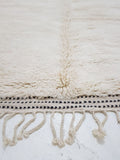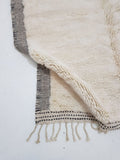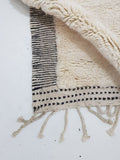 In the village of M'Rirt, in the province of Khenifra in Morocco, you will find our family of weaving craftsmen, who for hundreds of years have created these beautiful carpets.

Using the purest and best quality wool in the region (look at the details in the pictures and you will see the difference with others), thaese beautiful carpets have been hand-woven knot by knot creating one of the best Moroccan rugs.

The M'Rirt tribe is undoubtedly one of the best that have managed to preserve their techniques and keep the vertical wooden looms, making this carpet a real masterpiece of culture, anthropology and living history.

Each rug requires between 8-10 weeks to be created, so once you have selected the size you need, our craftsmen will start creating your rug.

Of course, as these pieces are made on wooden looms and woven knot by knot, there may be slight differences from the sample. If you have any doubt, we will be happy to help you.

Without a doubt, knowing that your carpet has been created by the Berbers and that no one else will have exactly the same piece, is an added value.

Important: The whole creation process is completely manual and uses natural resources, therefore respecting the environment. Moreover, if you acquire this treasure you are helping to maintain this precious manual and traditional process as well as many families who live from their works.

Once the purchase has been made, we will contact you to confirm the details (check measurements, check if you want or don't want fringes on the sides, etc...)

FREE SHIPPING included in the price to Europe, UK, USA & Canadá. For Australia and NZ we'll charge a 50€ a shipping fee.

TAGS:

Beni Ourain, M'Rirt Rug, Beni Ourain Rugs, Moroccan Rug, Moroccan Rugs, White Rug, White Rugs, Wool Rug, Beni Ourain Carpet, Beni Ouarain Carpet, Beni Ouarain, Tribal Rugs, Berber Carpet, Berber Rugs, Customized Rugs
STANDARD DELIVERY:
Spain: Free Shipping
Europe: Free Shipping
Questions? Please, always happy to help you. :) Contact us:
whatsapp: Click the whatsapp icon.
call: +34 674 144 665
Size: 250x150 cm
Origin: Morocco - Middle Atlas Mountains
Tribe: Beni M'Rirt
Condition: Contemporary
Material: Finest Wool
Beni M'Rirt Rug Blue Lavend...


$889.00


Beni M'Rirt 330x255 cm


$2,057.00
Moroccan Rug White Toubkal 250x150 cm
Shipping & Return
We ship from our lovely city Barcelona, Spain. We need 24h to get your order shipped as stock all you see in our store.
Once your order are ready, you'll receive a notification from the courier with all the information. We highly recommend you to put a contact phone in the Shipping Page as the courier can schedule with you the delivery and do the job much easier.
We always do the follow up of all the shipments, so nothing to worry about it.
Estimated Delivery Time:
♢Spain: 1-2 Working days.
♢Europe & UK: 5-7 Working days.
♢USA & Canada: 3-5 Working days.
♢Australia & New Zealand: 7-10 Working days.
Textiles:
Textiles include moroccan rugs, pillow covers, moroccan floor pillows and throw & Blankets.
Orders +100€ | FREE SHIPPING
♢Spain
♢Europe & UK
♢USA & Canada
Orders -100€ | Fixed Cost:
♢Spain: 7,50€
♢Europe & UK: 15,00€
♢USA & Canada: 30,00€
♢*Australia & New Zealand: Notice that we will charge a fixed cost of 50,00€ whatever the order amount is.
Natural Collection & Lighting:
Notice that we only are able ship our Natural Collection & Lighting to Europe & UK.
Orders +100€ | FREE SHIPPING
Orders -100€ | Fixed Cost:
♢Spain: 10,00€
♢Europe & UK: 15,00€
Rattan Collection:
We only are able to ship our Rattan Collection to Europe & UK.
♢Catalonia: Free Shipping, as we use our own transport.

♢Spain: 50,00€
♢Europe & UK: 150€
Return & Exchange Policies:
We want you to be super happy with your purchase. If you are not satisfied with your purchase, you have 14 days after delivery date to return or exchange you order.
Questions?
Please, do let us know whatever your question. We will be so happy to help you. Feel free to send us a mail at info(at)okreshop.com or message us on Whatsapp at +34 674 144 665 or direct message us on Instagram at @okreshop.com