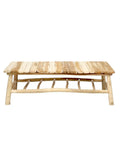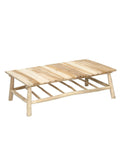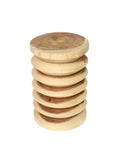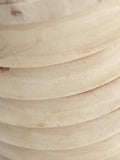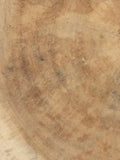 This coffee table from solid Teak Wood adds a natural summer vibe! Handmade to a very high standard, the coffee table looks great as a stylish alternative to a covered terrace, patio or interior lounge area.
Materials:
Teak wood is a tropical hardwood found in India and South East Asia. Teak has a high protective oil content, making it capable of lasting a lifetime. It can even resist extreme temperatures and humidity. Bazar Bizar only uses teak branch; these are collected branches, not trees that are cut down for production.

Maintenance:
Our outdoor furniture can withstand the weather. To ensure it stays beautiful and clean please follow these instructions. Store the furniture during the winter.
When you take the furniture back outside after the winter, it's best to treat it accordingly. Are there black spots on the wood? This can be easily removed with a pressure washer or some sandpaper. Treat the furniture with anti-fungal and then apply a wood oil of your choice.
Use a cloth (not soaking wet) with soap and warm water to clean your teak furniture. If there are any stains, remove them gently. Don't use a sponge because this can scratch the wood.

If you want a longer maintenance and protect your teak wood furniture, you can use teak oil to waterproof it and prevent it from spots.
We ship from Barcelona. This item has FREE SHIPPING to Europe.
STANDARD DELIVERY (5-7 working days)
Spain: Free Shipping
Europe: Free Shipping
Questions? Please, always happy to help you. :) Contact us:
whatsapp: Click the whatsapp icon.
call: +34 674 144 665
More info about delivery & return policy.
Old Elm Wood Coffee Table | S


$417.00

Old Elm Wood Coffee Table


$883.00
Shipping & Return
We ship from our lovely city Barcelona, Spain. We need 24h to get your order shipped as stock all you see in our store.
Once your order are ready, you'll receive a notification from the courier with all the information. We highly recommend you to put a contact phone in the Shipping Page as the courier can schedule with you the delivery and do the job much easier.
We always do the follow up of all the shipments, so nothing to worry about it.
Estimated Delivery Time:
♢Spain: 1-2 Working days.
♢Europe & UK: 5-7 Working days.
♢USA & Canada: 3-5 Working days.
♢Australia & New Zealand: 7-10 Working days.
Textiles:
Textiles include moroccan rugs, pillow covers, moroccan floor pillows and throw & Blankets.
Orders +100€ | FREE SHIPPING
♢Spain
♢Europe & UK
♢USA & Canada
Orders -100€ | Fixed Cost:
♢Spain: 7,50€
♢Europe & UK: 15,00€
♢USA & Canada: 30,00€
♢*Australia & New Zealand: Notice that we will charge a fixed cost of 50,00€ whatever the order amount is.
Natural Collection & Lighting:
Notice that we only are able ship our Natural Collection & Lighting to Europe & UK.
Orders +100€ | FREE SHIPPING
Orders -100€ | Fixed Cost:
♢Spain: 10,00€
♢Europe & UK: 15,00€
Rattan Collection:
We only are able to ship our Rattan Collection to Europe & UK.
♢Catalonia: Free Shipping, as we use our own transport.

♢Spain: 50,00€
♢Europe & UK: 150€
Return & Exchange Policies:
We want you to be super happy with your purchase. If you are not satisfied with your purchase, you have 14 days after delivery date to return or exchange you order.
Questions?
Please, do let us know whatever your question. We will be so happy to help you. Feel free to send us a mail at info(at)okreshop.com or message us on Whatsapp at +34 674 144 665 or direct message us on Instagram at @okreshop.com