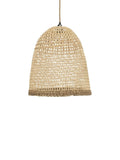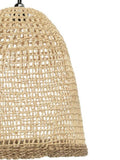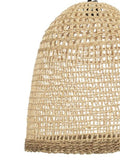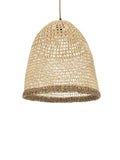 One of the highlights of our Vietnamese collection is this seagrass woven lamp, conic in shape with a beautiful and labour intensive pattern. It's hard not to admire the craftsmanship that went into this pendant light. And the best part: in the dark it creates a stunning pattern on the walls and roof of your living room, bedroom or covered outdoor space.
Seagrass
lives in the coastal waters in most of the continents. Seagrass is unique because it is the only flowering plant that can live underwater. Dried seagrass makes beautiful furniture. Seagrass furniture is woven by hand, while the plants are still green. Because the seagrass dries, the furniture will lose the green color, become firm and ready to use. 
The smooth and shiny exterior makes it very easy to maintain. Use a soft cloth along the rows of the grass to get rid of dust or dirt. Steam the seagrass to straighten if you please.
We recommend keeping your seagrass furniture indoors. If you take it outside, protect it from rain and rough weather. If exposed to rain, there is a possibility of rotting since it's a natural material. Also, direct exposure to sunlight will fade the color of the seagrass.
We ship from Barcelona.
STANDARD DELIVERY (5-7 working days)
Spain: Free Shipping
Europe: 15,00€ | Free Shipping Orders >100€
Questions? Please, always happy to help you. :) Contact us:
whatsapp: Click the whatsapp icon.
call: +34 674 144 665
More info about delivery & return policy.
Shipping & Return
We ship from our lovely city Barcelona, Spain. We need 24h to get your order shipped as stock all you see in our store.
Once your order are ready, you'll receive a notification from the courier with all the information. We highly recommend you to put a contact phone in the Shipping Page as the courier can schedule with you the delivery and do the job much easier.
We always do the follow up of all the shipments, so nothing to worry about it.
Estimated Delivery Time:
♢Spain: 1-2 Working days.
♢Europe & UK: 5-7 Working days.
♢USA & Canada: 3-5 Working days.
♢Australia & New Zealand: 7-10 Working days.
Textiles:
Textiles include moroccan rugs, pillow covers, moroccan floor pillows and throw & Blankets.
Orders +100€ | FREE SHIPPING
♢Spain
♢Europe & UK
♢USA & Canada
Orders -100€ | Fixed Cost:
♢Spain: 7,50€
♢Europe & UK: 15,00€
♢USA & Canada: 30,00€
♢*Australia & New Zealand: Notice that we will charge a fixed cost of 50,00€ whatever the order amount is.
Natural Collection & Lighting:
Notice that we only are able ship our Natural Collection & Lighting to Europe & UK.
Orders +100€ | FREE SHIPPING
Orders -100€ | Fixed Cost:
♢Spain: 10,00€
♢Europe & UK: 15,00€
Rattan Collection:
We only are able to ship our Rattan Collection to Europe & UK.
♢Catalonia: Free Shipping, as we use our own transport.

♢Spain: 50,00€
♢Europe & UK: 150€
Return & Exchange Policies:
We want you to be super happy with your purchase. If you are not satisfied with your purchase, you have 14 days after delivery date to return or exchange you order.
Questions?
Please, do let us know whatever your question. We will be so happy to help you. Feel free to send us a mail at info(at)okreshop.com or message us on Whatsapp at +34 674 144 665 or direct message us on Instagram at @okreshop.com