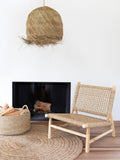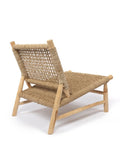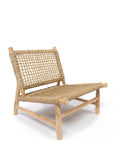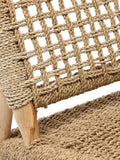 Sit back and relax in our beautiful Island Rope One Seater. The open woven back rest and seat are made with white cotton rope. This one seater adds a natural and tropical vibe to your home interior. Handmade to a very high standard, the sofa looks great as a stylish alternative to a covered terrace, patio or interior lounge area. Smile, breathe and go slowly... 

Materials:
Teak root - Teak Branch - Teak wood
Teak is a tropical hardwood tree found in India and South East Asia, which we source from the overgrow on rainforest floors. Teak has a high protective oil content, making it capable of lasting a lifetime. It can even resist extreme temperatures and humidity. It's a lovely natural material that can be used both indoors and outdoors.
Bazar Bizar uses teak branch and teak root. Now what is the difference between these two?
Teak branches are collected branches from the trees. These branches are either found or left-over from other furniture making.
Teak root comes from the trunk of the tree and is obtained from fallen teak trees.
Note that the teak trees are not cut down for production!
Maintenance:
You can use a cloth with warm water and mild soap to clean your teak furniture. Be sure to wipe off all the soap residue after cleaning and let the wood dry properly. If there are any stains, remove them gently. Don't use a sponge because this can scratch the wood.
If you want a longer lasting maintenance and protect your teak wood furniture, you can use teak oil to waterproof it and prevent it from spots.
If you polish your teak root wood, you get a beautiful golden color. Exposed to the elements, the teak root wood color will fade to a silver-grey shade.
Currently out of stock, Pre-Order available
Expected restock date: 15/10/2021
STANDARD DELIVERY (5-7 working days)
Spain: Free Shipping
Europe: Free Shipping
Questions? Please, always happy to help you. :) Contact us:
whatsapp: Click the whatsapp icon.
call: +34 674 144 665
More info about delivery & return policy.