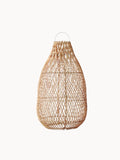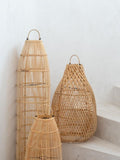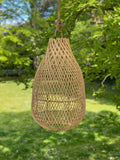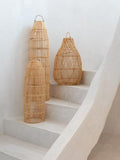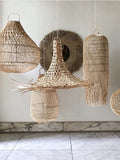 A beautiful handcrafted vase shaped pendant made of Rattan. Add this pendant to any interior room or covered outside space, or use as an interior floor lamp.
Rattan
 is a natural fiber from the palm tree family. Rattan products are lightweight, durable, and most important eco-friendly. It is also a very flexible material that can be woven into a lot of different shapes and forms. Indonesians have a lifelong tradition and experience in processing and weaving beautiful rattan products. 
Rattan
Rattan requires minimal cleaning and almost no maintenance.
You should often dust or vacuum the furniture or products because there are lots of nooks and crannies. You can also use warm water and dishwashing detergent to clean the surface.
We also recommend using the furniture covered outdoor or when you use it outside, cover it up. The sun could fade the color.
This item is already SOLD OUT but we expect to receive more units by the 31st October. So is already available as a Pre Sale.
We ship from Barcelona.
STANDARD DELIVERY (5-7 working days)
Spain: Free Shipping
Europe: 15,00€ | Free Shipping Orders >100€
Questions? Please, always happy to help you. :) Contact us:
whatsapp: Click the whatsapp icon.
call: +34 674 144 665
More info about delivery & return policy.