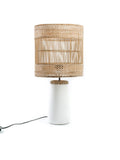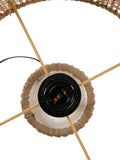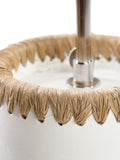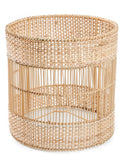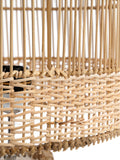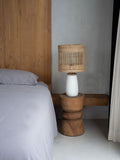 Sleek, subtle and incredibly sexy - that's our Kiska table lamp. The base is pure white terracotta with a raffia decoration around the edges. The lamp shade is made from rattan, and its unique pattern will make the light patterns more interesting and cosy. Go for style - get the Kiska table lamp!
Terracotta is a clay-based pottery and tableware, usually recognizable by the brownish-red color. The natural and Mediterranean look suits almost every garden and interior. Perfect for those who love a modern design with a wink to the past.

Care Instructions:

Very typical for terracotta is the white chalk spots that can appear, if you use terracotta as a flowerpot. This is due to the tap water used to water your plants. A simple solution is to use rainwater.
The white stains are easily removed with warm water and a dash of vinegar.
During winter months, it is recommended to take your terracotta pieces inside. They can freeze and break at temperatures below 0!

We ship from Barcelona.
STANDARD DELIVERY (5-7 working days)
Spain: Free Shipping
Europe: 15,00€ | Free Shipping Orders >100€
Questions? Please, always happy to help you. :) Contact us:
whatsapp: Click the whatsapp icon.
call: +34 674 144 665
More info about delivery & return policy.