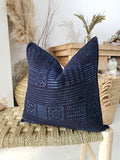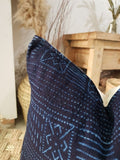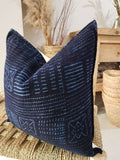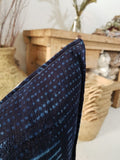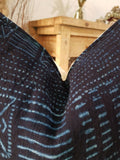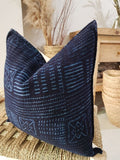 In the Bambara language, spoken in Mali, the word bògòlanfini is a composition of three words. Bogo, meaning "earth" or "mud," lan, meaning "with" and fini, meaning "cloth." The word is translated as "mud cloth".
Traditional Mudcloth is special for so many reasons. Each piece is unique, with their symbols telling a unique story. This secret language of the cloth was passed down from mother to daughter and now to you.
Please note that you will be acquiring a handmade and hand dyed piece using antique looms and natural dyes. For this reason, could be some imperfections in the shapes or pattern which we love as it make each pillow cover authentic one of a kind pieces.
The dyes used to obtain the Indigo colour are completely natural, obtaining this unique and precious Indigo shine that we like so much. To prevent the same dye from staining other garments on contact, we have washed the fabric 3-4 times beforehand to prevent the colour from fading. However, it is possible that some of the natural blue colour may come out. We recommend a dry clean or hand wash in cold water using neutral soap and leave to dry in the sun.

This cover is made from authentic Malian Mudcloth, and in the local culture the Indigo colour is highly valued for its healing properties.


Tags: Mudcloth , Cushion, Mudcloth Pillow Cover
Indigo, 
Origin: Mali, África
Composition: 100% Cotton
Recommended Insert: 50x50 cm | 20x20 in
Size: 50x50 cm | 20x20 in
Care Instructions: Recommended to dry wash. If you use achine wash, use with cold water with a mild detergent, using the gentlest cycle available.
Mudcloth Pillow Cover Indigo
Shipping & Return
We ship from our lovely city Barcelona, Spain. We need 24h to get your order shipped as stock all you see in our store.
Once your order are ready, you'll receive a notification from the courier with all the information. We highly recommend you to put a contact phone in the Shipping Page as the courier can schedule with you the delivery and do the job much easier.
We always do the follow up of all the shipments, so nothing to worry about it.
Estimated Delivery Time:
♢Spain: 1-2 Working days.
♢Europe & UK: 5-7 Working days.
♢USA & Canada: 3-5 Working days.
♢Australia & New Zealand: 7-10 Working days.
Textiles:
Textiles include moroccan rugs, pillow covers, moroccan floor pillows and throw & Blankets.
Orders +100€ | FREE SHIPPING
♢Spain
♢Europe & UK
♢USA & Canada
Orders -100€ | Fixed Cost:
♢Spain: 7,50€
♢Europe & UK: 15,00€
♢USA & Canada: 30,00€
♢*Australia & New Zealand: Notice that we will charge a fixed cost of 50,00€ whatever the order amount is.
Natural Collection & Lighting:
Notice that we only are able ship our Natural Collection & Lighting to Europe & UK.
Orders +100€ | FREE SHIPPING
Orders -100€ | Fixed Cost:
♢Spain: 10,00€
♢Europe & UK: 15,00€
Rattan Collection:
We only are able to ship our Rattan Collection to Europe & UK.
♢Catalonia: Free Shipping, as we use our own transport.

♢Spain: 50,00€
♢Europe & UK: 150€
Return & Exchange Policies:
We want you to be super happy with your purchase. If you are not satisfied with your purchase, you have 14 days after delivery date to return or exchange you order.
Questions?
Please, do let us know whatever your question. We will be so happy to help you. Feel free to send us a mail at info(at)okreshop.com or message us on Whatsapp at +34 674 144 665 or direct message us on Instagram at @okreshop.com