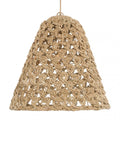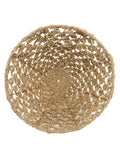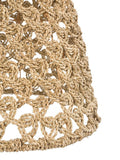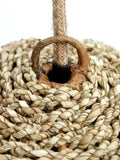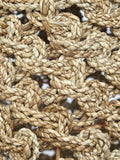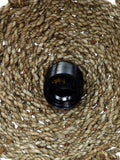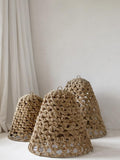 We are in love with the tightly open woven seagrass pendant lamps that will create 100% atmosphere with its irresistible boho look. It will add a wonderful cozy light to your living room, bedroom or in a covered outside room. Let your light shine! Light source not included.

Material:
Seagrass
lives in the coastal waters in most of the continents. Seagrass is unique because it is the only flowering plant that can live underwater. Dried seagrass makes beautiful furniture. Seagrass furniture is woven by hand, while the plants are still green. Because the seagrass dries, the furniture will lose the green color, become firm and ready to use. 
The smooth and shiny exterior makes it very easy to maintain. Use a soft cloth along the rows of the grass to get rid of dust or dirt. Steam the seagrass to straighten if you please.
We recommend keeping your seagrass furniture indoors. If you take it outside, protect it from rain and rough weather. If exposed to rain, there is a possibility of rotting since it's a natural material. Also, direct exposure to sunlight will fade the color of the seagrass.
This item will be available on 1st October - Now you can Pre-Order.
We ship from Barcelona.
STANDARD DELIVERY (5-7 working days)
Spain: Free Shipping
Europe: 15,00€ | Free Shipping Orders >100€
Questions? Please, always happy to help you. :) Contact us:
whatsapp: Click the whatsapp icon.
call: +34 674 144 665
More info about delivery & return policy.