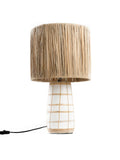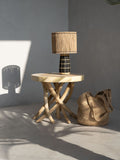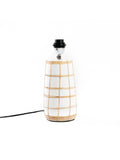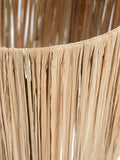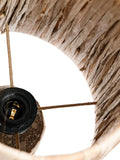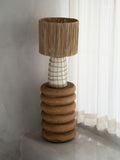 Whether you put it on your bedside table(s), in a forgotten / poorly lit corner of your living room or in a hallway - this table lamp will light up the room in more ways than one. Pure handmade bliss with a combination of terracotta (the lamp base), rattan (the decorational grid on the base) and grass (the shade). This stylish lamp sure has lots of personality! Also available with a white base.
Terracotta is a clay-based pottery and tableware, usually recognizable by the brownish-red color. The natural and Mediterranean look suits almost every garden and interior. Perfect for those who love a modern design with a wink to the past.

Very typical for terracotta is the white chalk spots that can appear, if you use terracotta as a flowerpot. This is due to the tap water used to water your plants. A simple solution is to use rainwater.
The white stains are easily removed with warm water and a dash of vinegar.
During winter months, it is recommended to take your terracotta pieces inside. They can freeze and break at temperatures below 0!

We ship from Barcelona.
STANDARD DELIVERY (5-7 working days)
Spain: Free Shipping
Europe: 15,00€ | Free Shipping Orders >100€
Questions? Please, always happy to help you. :) Contact us:
whatsapp: Click the whatsapp icon.
call: +34 674 144 665
More info about delivery & return policy.
Skiathos Table Lamp | Natural White
Shipping & Return
We ship from our lovely city Barcelona, Spain. We need 24h to get your order shipped as stock all you see in our store.
Once your order are ready, you'll receive a notification from the courier with all the information. We highly recommend you to put a contact phone in the Shipping Page as the courier can schedule with you the delivery and do the job much easier.
We always do the follow up of all the shipments, so nothing to worry about it.
Estimated Delivery Time:
♢Spain: 1-2 Working days.
♢Europe & UK: 5-7 Working days.
♢USA & Canada: 3-5 Working days.
♢Australia & New Zealand: 7-10 Working days.
Textiles:
Textiles include moroccan rugs, pillow covers, moroccan floor pillows and throw & Blankets.
Orders +100€ | FREE SHIPPING
♢Spain
♢Europe & UK
♢USA & Canada
Orders -100€ | Fixed Cost:
♢Spain: 7,50€
♢Europe & UK: 15,00€
♢USA & Canada: 30,00€
♢*Australia & New Zealand: Notice that we will charge a fixed cost of 50,00€ whatever the order amount is.
Natural Collection & Lighting:
Notice that we only are able ship our Natural Collection & Lighting to Europe & UK.
Orders +100€ | FREE SHIPPING
Orders -100€ | Fixed Cost:
♢Spain: 10,00€
♢Europe & UK: 15,00€
Rattan Collection:
We only are able to ship our Rattan Collection to Europe & UK.
♢Catalonia: Free Shipping, as we use our own transport.

♢Spain: 50,00€
♢Europe & UK: 150€
Return & Exchange Policies:
We want you to be super happy with your purchase. If you are not satisfied with your purchase, you have 14 days after delivery date to return or exchange you order.
Questions?
Please, do let us know whatever your question. We will be so happy to help you. Feel free to send us a mail at info(at)okreshop.com or message us on Whatsapp at +34 674 144 665 or direct message us on Instagram at @okreshop.com